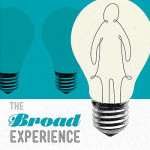 Journalist Ashley Milne-Tyte reports on women in the workplace and success in a podcast called "The Broad Experience."
Back in August, she published a show about Write/Speak/Code, and more broadly (ha) about some of the hurdles women face when finding themselves in the spotlight and what they are doing about it. Ashley spoke with developer and Write/Speak/Code founder Rebecca Miller-Webster, developer and participant Aimee Simone, and me (one of the conference co-founders).
Read the full transcript of the show, and listen to the podcast below.