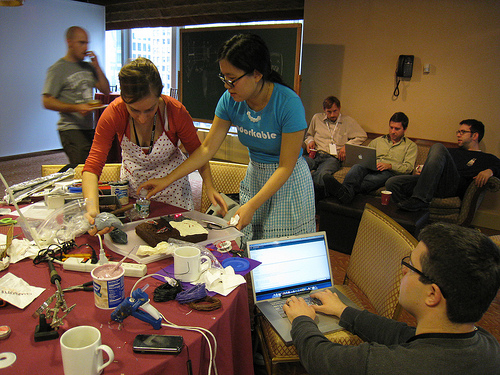 TL;DNR: Sign up now for the TimesOpen Hack Day at The New York Times on Nov. 16. Why? Because talking is good; making is better. It'll be fun. You'll learn things. And meet interesting people.
My very first hackathon was in 2009, when Yahoo rode into town with what is still the splashiest of all hack events I've ever been to, Open Hack Day NYC.
There must have been at least 500 people in attendance. I decided to go because I wanted to meet other people and try to make something. Yahoo had brought a bunch of their YUI and Brickhouse incubator engineers, whose job it was to help attendees during the hackathon. Any code-related question was OK, and the organizers and engineers themselves would remind you they were around to help.
At first, I was nervous about asking for assistance. After all, the people surrounding me — mostly men — appeared far more confident about their code skills than I felt about mine. If I asked for help, wasn't I just perpetuating the stereotype that "girls can't code"?
Eventually, I said "Screw it." I was a code novice. And I was going to get better by learning from people who were right there offering to explain things to me. Those who helped me weren't just nice about it, they taught me more about SQL and PHP (at the time, my hack language of choice).
The photo above shows part of the 4-person team who called themselves Del.icio.us Cake. They tied for Best Food/Hardware Hack. One of the team members was data scientist Hilary Mason. When she talks about that hack day — and she still does — she talks about it being really fun.
Participating in a hackathon is often about winning, but winning isn't everything. Take advantage of the opportunity to push yourself, enjoy yourself, learn from others and meet people. Join me at the TimesOpen Hack Day.